Taking Care of Your Curly Hair: Tips and Tricks
By madwire | August 06, 2019
Natural curls are in, but how do you know the best way to take care of them?
There are different ways to help curls reduce their frizz and look natural and voluminous. While there is no right or wrong answer when it comes to curl care for your hair, there are many tips and tricks that will help keep your curls safe and healthy. Read through our tips to learn more. 
Want to get your curly hair styled? Book an appointment with our experienced team at Moxie Salon and Beauty Bar in New Jersey. From a hospitality bar to a free consultation, come get moxified at your nearby salon location today! 
Tips and Tricks for Curly Hair 
When it comes to curly hair, it can feel like a never-ending battle to keep your curls looking voluminous and moisturized. That's why we're here today with different tips and tricks to help you give your curly hair the help it needs. Read through our advice and find some new ways to take care of your curls. 
Choose the Right Shampoo
Do you have a shampoo made specifically for curly hair? A great analogy is thinking about your curly hair like cashmere. Just like you wouldn't wash cashmere with harsh detergent, you shouldn't wash your curls with harsh shampoo. There are shampoos made specifically for hydrating curly hair. 
If you are unsure which shampoo would be best for your hair, make sure you ask your nearby salon hairstylist for recommendations at your next appointment! 
Pro Tip: If you have thicker, curly hair, you don't need to shampoo your hair every day. Constantly using shampoo can dry out your hair. Instead, conditioner is a great way to keep your curls hydrated. We've talked about these topics more in-depth in our posts about how often you should shampoo your hair and our guide to using conditioner. 
Deep Condition Your Hair 
If you have curly hair, make a deep conditioner your new best friend. But before you buy a deep conditioner, think about the texture of your hair. Is it dry? Weak? Make sure you pick a conditioner that will help fix any problems you're worried about. 
Pro Tip: Typically, the scalp area is not where you need to moisturize because it naturally produces oil to help keep your hair hydrated. Instead, apply the deep conditioner on the actual hair itself, avoiding the roots and scalp. You can learn more about the proper way to condition in our previous post. 
Style When Wet 
If you want to lock in moisture and help your curls look thick, apply any product when your hair is still wet. Using product this way also makes it easier for you to style your curls as they dry. 
Let Your Hair Dry Slowly
While it might be tempting to towel-dry your hair after a shower, don't. If you want to avoid frizzy hair, let your hair and curls air dry. If your hair is too wet, gently squeeze out any excess water or roll your hair up using a microfiber towel or cotton shirt. Both of those fabrics are great for absorbing water without making your hair frizz. 
Use a Diffuser 
Not sure what a diffuser is? It is an attachment that connects to the end of your blow dryer to speed up the air-drying process. Again, tricks like using a diffuser will help your hair dry naturally and without frizzing. 
Pro Tip: When you're using a diffuser, don't dry your hair completely. Instead, get the majority of the water out and let your curls air dry the rest of the way.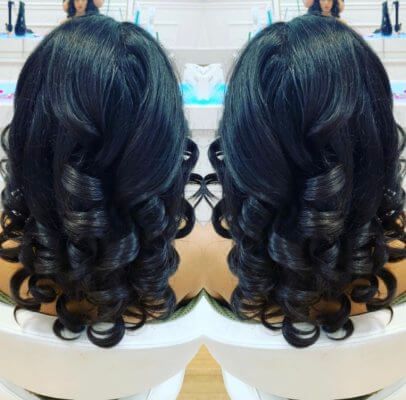 Satin Pillows
Yes, you read that correctly: satin pillows. Cotton and other rough pillowcases can cause your hair to tangle and frizz while you sleep. Even if you can't upgrade your entire sheet set to satin, replace your pillowcase with a softer fabric that won't cause your hair to frizz while you sleep. This is even more important if you plan on going to bed with wet curls and letting them air dry while you sleep. 
Pro Tip: If you don't want to invest in satin pillowcases, you can also wrap your hair in a satin scarf or bonnet to keep your curls intact through the night. 
Avoid Heat 
As we said in the beginning of this post, natural curls are in. If you still feel tempted to straighten your hair, try not to. In fact, any type of heat — blow dryer, curler, or straightener — can break your hair. A diffuser is a great way to compromise, speeding up the drying process without exposing your hair to intense heat. 
Pro Tip: If you want to add extra curls to your hair without using heat, use foam rollers or twists to put your hair up and let it air dry. 
Be Gentle
It's important to be gentle with your curls, especially when your hair is dry! Curly hair can get tangled very easily, but it breaks off even easier. Avoid products or tools that are harsh on your hair, including hair elastics and other things that pull on your hair. If you need to define your curls, just scrunch them while your hair is still wet. You can also apply some product to help enhance those curls as they dry. 
Don't Brush 
While it might feel tempting to brush out tangles in your hair, you don't want to brush curly hair — especially if your hair is dry. While the goal might be to detangle your hair, brushing actually causes frizz, removes any definition, and can be too aggressive on your curls. If you have to get knots out of your hair, opt for a wide-toothed comb and try to get any tangles out when your hair is still wet. 
Pro Tip: To avoid breaking your hair, start with the ends of your hair and work your way up using a wide-toothed comb.
Your Nearby Salon
We hope this post provided you with some new tips and tricks for maintaining your curly hair! When it comes to choosing a salon, you want to make sure you have a hairstylist you can trust. That's why we offer complimentary beauty consultations at Moxie Salon and Beauty Bar. If you live in New Jersey, book an appointment at your nearby salon today!