Different Types of Hair Extensions
By madwire | August 13, 2019
You've decided you want to get hair extensions. Now what?
When it comes to hair extensions, there are a lot of different ways to attach the hair as well as different types of hair extensions you can get — ranging from short-term extensions to extensions you can wear for longer periods of time. 
To learn more about which hair extensions are right for you, make a visit to your nearby salon. Moxie Salon & Beauty Bar has multiple locations throughout New Jersey and we offer complimentary beauty consultations. Just book an appointment with our team and find a solution for giving your hair the length and volume you want! 
Hair Extensions
When it comes to hair extensions, there are a lot of decisions you have to make, including whether you want real or synthetic hair. Both come in the same variety of hair color and styles. Synthetic hair is generally stiffer while real hair looks and feels real. This also means that synthetic hair, which being the cheaper option, does not last as long as real hair extensions. 
Once you've decided between real and synthetic hair,  you have to decide which type of extensions you want. 
Note: When we discuss the care of each extension, we will focus on extensions made from real hair. Synthetic hair is more fragile and you cannot style it using heat or hair dyes. 
Clip-in Extensions
These sound just like what they mean — you clip these extensions in. These extensions come pre-attached to a clip that can be added to your bottom layer of hair for an immediate extension.  
How to care for your extensions
If you have real hair extensions, treat these extensions like your normal hair. Brush, wash, and dry like you usually would. 
How long they last 
These are the least permanent of your hair extension options since the clips can be easily removed and put back in. The extensions themselves can last anywhere from three to six months, depending on how frequently you wear them.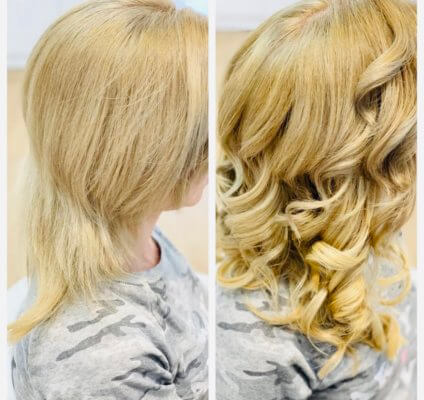 Tape-in Extensions
You guessed it! Tape-in extensions are placed along your hairline using tape. It's important that you have a hairdresser place these extensions because they need to be carefully aligned at the roots and are applied using a special heat tool. 
This also means you need to have them professionally removed with a glue remover. 
How to care for 
If you have real hair extensions, you have to be careful with washing tape-in extensions. Certain cleaners and hair products can cause the tape to come undone. We usually recommend using shampoos and products that are less harsh and oily to ensure you don't lose your extensions. 
When you're styling the extensions, also make sure you watch out for the taped roots.  
How long they last 
Tape-in extensions are considered semi-permanent. This is because they can stay in your hair for four to eight weeks before they need to be removed. Once they are removed and washed, you can reapply them. 
Sew-in Extensions or Weaves 
This process involves braiding the weaves into your natural hair. To do this, your natural hair is braided into cornrows and the extensions are threaded through those braids. 
These extensions are best for people with thick hair since you're using the natural hair to hold them in. 
How to care for 
Make sure you keep your scalp moisturized with a deep conditioner. Since they are woven into your hair, if you have real hair extensions, just take care of them like your other hair. 
How long they last 
You will want to remove your weave around every six to eight weeks. Just make sure you don't leave your weave in longer than four months! 
Microlink Hair Extensions
Microlink hair extensions use microbeads to affix a small clump of extensions to the base of your natural hair. Unlike most of the other semi-permanent options, microlink does not involve glue or other chemicals. Instead, the little beads are pinched to hold the extensions in place. 
How to care for 
Like with other real hair extensions, you can use the same products you would use on your natural hair. These extensions don't have any chemicals or glue you have to worry about. 
How long they last 
Microlink extensions are semi-permanent and can be kept in your hair for up to four months. Sometimes, as your natural hair grows out, your extensions might need to be repositioned sooner than that.
Pre-bonded or Fusion Extensions
These extensions are fused to your natural hair and can take up to three or four hours to apply. This process can damage your natural hair, but the extensions are carefully glued to individual strands of natural hair creating extensions that look natural. 
How to care for 
If you have extensions with real hair, take care of these extensions like you do for your other natural hair. These extensions work a lot like the microlink hair extensions. 
How long they last 
Fusion extensions are also a type of semi-permanent hair extensions. These extensions can be kept in your hair for up to four months. Like with microlink extensions, you might need to position these extensions as your hair grows out. 
Get Hair Extensions at Your Nearby Salon
We hope you have a better understanding of your options when it comes to hair extensions! If you still need some help from a hairdresser, we offer complimentary beauty consultations at Moxie Salon & Beauty Bar.
We have locations throughout New Jersey, so find your nearby salon and book an appointment today!