A Summer Guide To Wedding Hair
By madwire | July 22, 2019
Summer is quickly approaching. Are you planning a summer wedding? Do you know what you're doing for wedding hair? Do you plan on practicing your hairstyle before the wedding?
At Moxie Salon & Beauty Bar in New Jersey, we know the sheer amount of styles and options you have when it comes to wedding hair. That's why we're here to give you a guide to your summer wedding hair. Whether you have long or short hair, there is a wedding hairstyle that's perfect for your special day. Read through our summer guide and find just the style you're looking for!
If you're looking for a nearby salon in New Jersey, make sure you look for a Moxie location near you. Let our team help you — and your hair — look perfect for your special day. Book an appointment now at your nearby salon and ask about scheduling a test appointment before the big day!
Your Guide To Wedding Hair
Read through our summer guide to wedding hair to find a look that's right for you. If you have different elements you're looking for, don't be afraid to ask your stylist about combining different hairstyles! Just make sure you schedule an appointment with your hairstylist before your wedding day to make sure you're happy with the final product.
Short Hair
Short hair doesn't mean fewer options! Here are some of our favorite wedding hairstyles for shorter hair.
Let Your Curls Out
If you have short curly hair, leave your curls alone! Instead, add some extra curls to enhance the look, and make sure the way the curls fall frames your face.
Make it pop: If you're letting your curls free, think about tucking a flower or sparkly pin behind your hair to add something extra.
Other hair options: The same can be true for other hair types. If your hair is naturally straight or wavy, opt for that natural look!
Blowout
Blowouts never go out of style. If you have short hair, get a blowout and show off your natural hair.
Make it pop: Once you have your blowout looking spectacular, add real or fake flowers, some beautiful earrings, and a veil to complete the look.
Pixie Hair
Are you currently rocking a pixie cut? That just means you have to spend less time on your wedding hair! If you're looking for color, get your hair dyed before the wedding. Otherwise, add a beaded or flower headdress and a veil for a look that's wedding-perfect!
Medium Hair
If you have medium, chin- to shoulder-length hair, we have some amazing looks you could pick for your wedding day.
Stylish Updo
When it comes to an updo, your options are endless. You can add knots, twists, and buns to your hair for something that's attractive but also out of your face for your special day.
Once you've decided your style, you can also decide how polished you want your hair to look. If you're going for a carefree or relaxed feel, don't worry about taming any loose hair or strands.  
Make it pop: Since your hair will be up around your head, pick a pair of stunning drop earrings that accentuate your neckline.
French Twist
A French twist might be a simple look, but the way they are executed can range from classic to messy or modern. It all depends on how you want your french twist to look. Keep all your hair in the twist or let your loose strands fall out for a more relaxed style. Then accent your hair however you want, whether it's with a veil, fresh flowers, or a beautiful family heirloom.
Make it pop: Braid your hair first. Then twist that braid into a French twist for an intricate wedding hair look.
Low Bun
Tuck your hair into a low bun. Since your hair is shorter, let some pieces of hair fall out and frame your face. Add curls to those loose pieces of hair to add extra waves and help frame your face.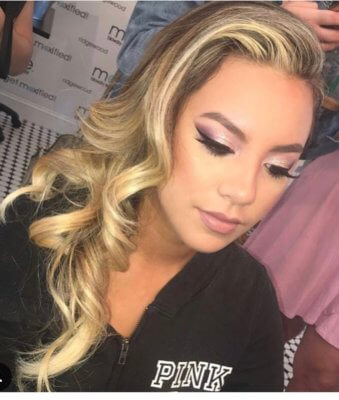 Long Hair
If you have long hair, it can feel like you have endless options when it comes to wedding hair. The most important thing is to narrow down what type of hairstyle you're looking for instead of feeling overwhelmed by your hair options.
Side Braid
Nothing is more beautiful than a long braid falling over your shoulder. With a braid, you can decide how tight or loose you want the braid to look. For a boho look, let some curls fall out and pull at the braid to loosen the knots.
Make it pop: You can add flowers or other accents to your braid that match the design of your dress or your wedding theme and color.  
Pony It Up
Since you have plenty of hair, pull your hair into a high, romantic ponytail. Loosely curl your hair for a look that's light and bouncy.
Make it pop: If you're looking for an accent, find a beautiful barrette to clip in your hair where the ponytail starts. You can also clip your veil around the ponytail.
Large Ballerina Bun
Ballerinas are known for their large buns — and buns never go out of style. Take all of your hair and put it up in a large bun. Depending on your wedding look, you can either do a tight bun or loosen your hair for an effortless look. In the end, this bun wedding hair leaves you with plenty of options for accents and your veil.  
Make it pop: You can add little bobby pin pearls around the bun, or tuck your veil into the base of your bun to draw attention to your hair.
Be Prepared On Your Wedding Day With Moxie
This guide is in no way exhaustive of the possibilities you have when it comes to wedding hair. If you see something that's not on this guide, ask your stylist about your options!
Don't leave anything to chance when it comes to your wedding day! Choose Moxie Salon & Beauty Bar in New Jersey. Book an appointment at your nearby salon and don't stress about your wedding hair on your special day.